Birding Map and Guide for Forsyth County
Winston-Salem, Forsyth County is a nice place to visit, and a growing number of people are living here. If you will drive a little and walk a bit, there are times and places for you to see most of the birds in the eastern United States. The purpose of this map and guide is to help you get to the places.
Directions start on either Business I-40 or Silas Creek Parkway. Silas is indicated as North or South of its intersection with Business I-40. The former termination of Silas Creek Parkway North at Reynolda Rd. is now Wake Forest Dr., and the parkway continues to become North Point Blvd. at Bethabara Rd. A street map will be helpful.
You also will want Forsyth Audubon's FieldCheck List of Avian Species for Forsyth County. A hundred species have been recorded as nesting here, of which most are common, and over 290 species total. Migration is in April-May and September-October. Our Christmas Count tallies 70-90, the Spring Count is 120-150.
Now available, too, is a paperback "Birding Guide to Forsyth County," by David Disher. This publication shows documented county records for 280 species with information, not only about what species have been observed, but also their relative abundancy and what weeks of the year you are most likely to find them. Complete with photos of rare sightings, this publication is available at chapter meetings, at Wright's Backyard Birding Center, 3906 Country Club Rd., or by sending email to Nita Colvin. The cost is $15 with all profits going to the chapter.
Rather than more about birds, this guide is more about places. All sites described are public, and are worth at least an hour. Many are changing or planned for change, adding a bit of adventure to the usual unpredictability. After several years, the guide has been updated to include new locations and bird activity through Fall 2010. Much thanks to David Disher for making the revision possible.
For more detail on Birding Spots in Forsyth County, click on any of the links listed below.
For a complete list of 85 parks and greenways visit:
 www.forsyth.cc/parks 
 www.cityofws.org/departments/recreation-parks/parks-greenways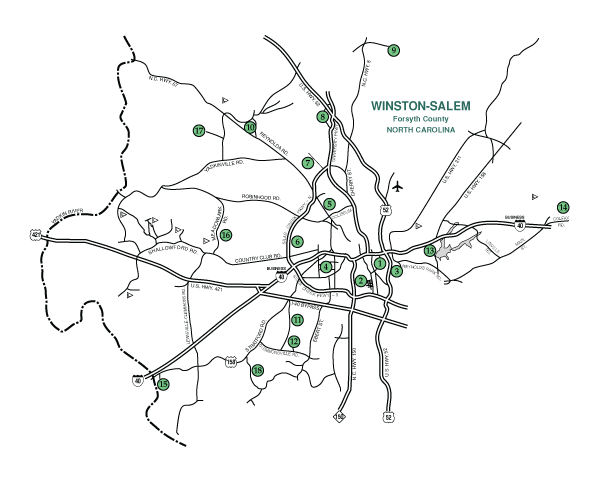 Click here to download a printable version of this map.