A Letter from Our Chapter President
During this time of sequestering I have been taking stock of all we do as an organization. I, perhaps like you, am surprised and delighted to see the breadth and depth of our actions. We are an active group of people who love nature, especially love our birding activities, enjoy being with each other, welcome new friends, and also seriously address the environmental and social issues that confront us. I drew up a list of activities and projects which I will share with you. I hope you will find it interesting and informative and that it will entice you to join along.

The core of our Chapter is our local bird walks, our Christmas and Spring bird counts, day and weekend birding trips, Chapter meetings, Birds and Beer, and the many adventures we have together. Our partnership with Audubon North Carolina and National Audubon enriches our chapter and enlarges our efficacy.

We have Education projects in the local schools and through our information booth at fairs and festivals. We work to decrease bird-building collision events through the Lights Out Program. Interpretive signage to celebrate and interpret nature is developed for our Parks and bird friendly gardens. Chimney Swift towers are planned and built. Our Conservation projects preserve and restore needed habitat using native plants in our Parks, our yards, commercial properties, Colleges and Universities and retirement communities. We work closely with City and County administrators, educating them and encouraging them to place conservation first in their deliberations. We partner with Audubon North Carolina and many other Conservation organizations to confront the pressing problems of climate change and shrinking natural habitat. We work successfully with Lawmakers locally and at the State level to advance our goal and mission. We work to make the enjoyment of nature available to everyone.

To do this work well we need to educate ourselves, participate, and reach out to others. We are known for our friendliness, our open and welcoming spirit, our joy in sharing our love of nature with everyone. We have established ties with WSSU, WFU, Salem College, and UNCSA helping students learn about Audubon and develop projects at each of these campuses. They are the future.

We will be celebrating the future of Forsyth Audubon and our remarkable past next year as a committee is hard at work planning for the Forsyth Audubon 50th Anniversary in 2021. You can be proud of all you have accomplished and you can look forward to more fun filled and important events, come join us! To participate as a volunteer with any of these activities or projects please contact:
Don Lendle, President, dlendle@gmail.com,
Max Nottke, Conservation Chair, info@bashaviagardens.com
Wendy Hawkins, Education Chair, redbank211@gmail.com
Heather Moir, Communications Chair, moir.heather85@gmail.com
Jennifer Hemric, Membership Chair, jlynhemric@gmail.com

Don Lendle
Shelley Rutkin Receives Snavely Award!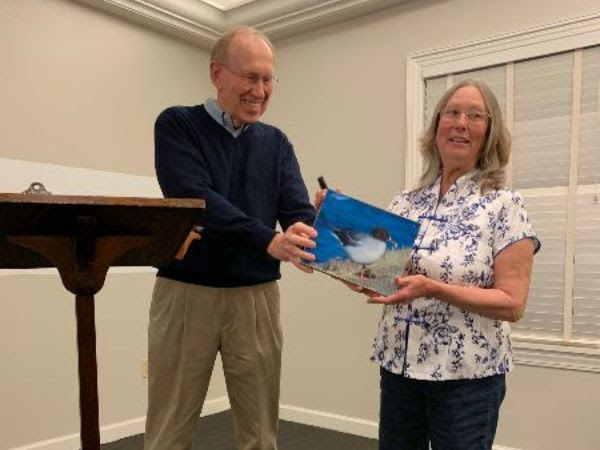 Each year, Forsyth Audubon recognizes a member for his or her long-time service and involvement in Forsyth Audubon activities. The award, named after chapter founder and matriarch Ramona Snavely, was instituted in 2007. Shelley Rutkin has a long history of volunteering with Forsyth Audubon, including many years of serving on the Forsyth Audubon board, including serving in the capacity of Conservation Chair.
She had involvement in many projects throughout her tenure such as the "Wood Thrush Connection" which included traveling to Belize with Forsyth Audubon members. She was also integral in establishing native gardens at Bethania.
Shelley also had involvement with Tanglewood projects, managed "Forsythbirds" listserv for over 10 years, and has managed Forsyth Audubon's blog since it's inception and continues to serve in that capacity.
She optimizes the "backyard birder" by managing a wild native landscape at her home. Shelley still serves as the regional Cornell Ornithology's eBird Regional Hotspot Editor for North Carolina and recently served as a tremendous help with eBird training for Forsyth Audubon membership. All the while traveling the world, fueled by enjoying and sharing her love of birds.
Become an Audubon Ambassador on Climate Change!
Audubon North Carolina is looking for Ambassadors on Climate Change. Can you volunteer five hours a month for the benefit of our birds, other wildlife and people? There are a host of things you can do, and you probably do some of the: take part in Christmas Bird Counts, as bird-friendly native plants to your garden, talk to your neighbors about birds and climate change, write legislators about it. Look for a future Audubon Ambassador workshop soon to learn more about the issue and how you can help. To read a summary of the National Audubon Society's report on "Birds and Climate Change"
Order Birding Guide to Forsyth County!
The fifth edition of "Birding Guide to Forsyth County," by David Disher, is now available. David's book, in a handy 6 x 9 paperback format, compiles documented observations for 280 bird species in Forsyth County. Learn what birds can be seen here and during which weeks of the year you are most likely to see them. Photos of uncommon sightings are included. Information on local birding spots also is included. For $15, this is a great gift for your favorite birder. All profits go to our chapter. Copies are available at Wright's Backyard Birding Center, 3906 Country Club Rd., Winston-Salem, and at Wild Birds Unlimited, 1589 Skeet Club Rd, High Point. Copies also are available for sale at our monthly chapter meetings. If you have a smart phone or tablet, download the electronic version available for $4.99 from www.lulu.com.