Landscaping with Natives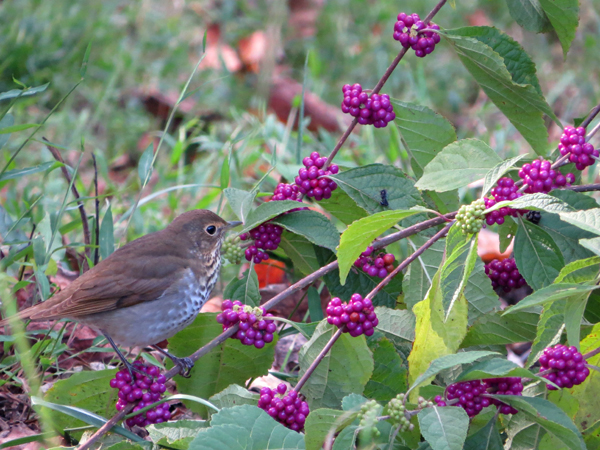 Are you ready to plant some natives?  Maybe you want to replace a Crepe Myrtle, add a good looking specimen to your yard or cover an ugly bare hill to control erosion. It can be difficult to chose what plants to use if you aren't familiar with them.  Help is here. A new feature on the site shows photos of natives that have been planted in this area.   Visit Landscaping with Natives to see photos of natives plants at various stages and seasons, including in bloom, and closeups of the flowers and fruit.
Jean Chamberlain Receives Snavely Award!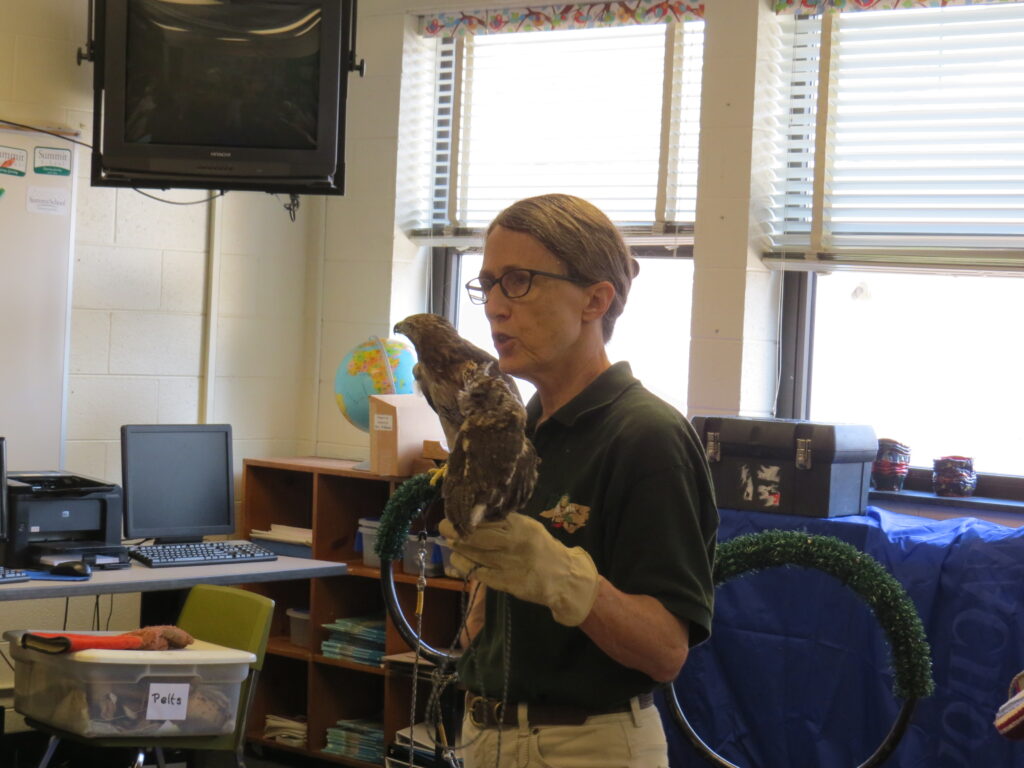 The Christmas Bird Count evening social was highlighted by the presentation to Jean Chamberlain of the Ramona Snavely Award for 2020.
Jean is a most deserving recipient. A long term member of Audubon Society of Forsyth County she has contributed in so many ways. A good friend to many, a leader on the Board of Directors, a leader in the field. She has worked tirelessly on conservation projects such as the Wood Thrush Migration Study and Native Plant habitat restoration. Her work redesigning and maintaining our Website has helped greatly to make us professional and friendly.
Jean is a world traveler and a world birder, a student of birdsong, and a devoted bird rehabilitator.
In preparing these remarks I asked several people for their contributions, many responded glowingly.
A story Nathan Gatto told says it well: One day on the Hanging Rock Bird Count, Nathan and Jean were birding together, Jean kept disappearing and Nathan could not figure out where she went off to.
After the count, Jean explained that she was rehabilitating a Yellow-billed Cuckoo and she stepped away to feed and care for the healing Cuckoo in the back of her car. Such devotion!
We are very pleased to honor Jean for years of outstanding service to Forsyth Audubon with the Ramona Snavely Award. Thank you Jean!
Become an Audubon Ambassador on Climate Change!
Audubon North Carolina is looking for Ambassadors on Climate Change. Can you volunteer five hours a month for the benefit of our birds, other wildlife and people? There are a host of things you can do, and you probably do some of the: take part in Christmas Bird Counts, as bird-friendly native plants to your garden, talk to your neighbors about birds and climate change, write legislators about it. Look for a future Audubon Ambassador workshop soon to learn more about the issue and how you can help. To read a summary of the National Audubon Society's report on "Birds and Climate Change"
Order Birding Guide to Forsyth County!
The fifth edition of "Birding Guide to Forsyth County," by David Disher, is now available. David's book, in a handy 6 x 9 paperback format, compiles documented observations for 280 bird species in Forsyth County. Learn what birds can be seen here and during which weeks of the year you are most likely to see them. Photos of uncommon sightings are included. Information on local birding spots also is included. For $15, this is a great gift for your favorite birder. All profits go to our chapter. Copies are available at Wright's Backyard Birding Center, 3906 Country Club Rd., Winston-Salem, and at Wild Birds Unlimited, 1589 Skeet Club Rd, High Point. Copies also are available for sale at our monthly chapter meetings. If you have a smart phone or tablet, download the electronic version available for $4.99 from www.lulu.com.